Active ownership
Our policy is to be an active owner and constructive investor towards both companies and asset managers. The aim is to influence behaviour and development in accordance with our responsible investment policy. To us, active ownership means engaging in dialogue, exercising our voting rights and excluding companies.
Velliv expects companies to manage their environmental, social and governance (ESG) risks, ensure responsible corporate behaviour in accordance with international CSR principles and ensure they benefit society as a whole and over time. We support greater transparency and better disclosures regarding ESG risks and, for the climate in particular, adhering to the Paris Agreement and complying with the global temperature rise target are crucial elements in our exercise of active ownership where our voting practices align with the recommendations of Climate Action 100+.
Monitoring
We continuously monitor our investments and the partners who invest on our behalf.
The monitoring, which consists of own monitoring as well as third-party research and screening, aims to identify possible breaches by companies of international principles and guidelines for responsible corporate behaviour.
Our investment portfolio is invested globally, and we believe that problems are best solved in an international context, with respect for local conditions. We have therefore chosen a globally renowned and leading provider of screening and monitoring solutions: Institutional Shareholder Services Inc. (ISS). 
The monitoring is also intended to contribute to the assessment of the ESG risks of each portfolio company, the ESG preparedness of business partners and, ultimately, the risk of the investment portfolio as a whole.
We enter into dialogue
If our monitoring reveals inappropriate behaviour by the companies we invest in, we enter into dialogue with them. The aim of the dialogue is to contribute to influencing a company with a view to preventing and/or mitigating inappropriate behaviour within the company.
The more capital an investor has invested in a company, the greater weight the investor's voice has on the management of the company. To add weight to our voice, we have therefore decided to work with other institutional investors when entering into dialogue with the companies we have invested in. We have chosen to use an internationally renowned partner, Institutional Shareholder Services Inc (ISS), to carry out the systematic work with the companies in our investment portfolio. In addition, there are some things we, as a large Danish investor, prefer to handle ourselves. That is why we undertake certain engagement activities ourselves at a supplementary level.
We also enter into dialogue with partners who invest on our behalf, which means on your behalf as well. It should be noted that our partners and asset managers also represent other investors globally, which gives them a much stronger voice in relation to the investment firms than we can have on our own. For that reason we work closely with the engagement specialists at our asset managers, as we know that influencing them can have a greater impact in influencing the investment firms.
Voting
Voting is a key element in the exercise of Velliv's active ownership, and we therefore exercise our right to vote at the general meetings of our investment companies.
The general meeting is the supreme authority of companies, and is where companies formally report to their owners. It is also at the general meeting that owners – i.e. investors – can express their concerns or continued support for the company's management.
At the general meeting, we assess whether the structure and strategy of companies underpin sustainable value creation, for example through appropriate remuneration policies, management composition, corporate culture and implementation of risk systems, as well as capital structure and dividend payments.
We vote as co-owners of many companies at general meetings in many parts of the world. On our voting portal you can see where and how we exercise our voting rights.
The below figure shows how we cooperate with our managers and use third-party analyses in relation to voting. The voting season typically starts in the second quarter, and our internal preparations therefore start in the first quarter. Our internal preparations include considering the topics that will guide how we vote, such as the climate, human rights and gender diversity. The managers invest on behalf of Velliv and have detailed knowledge of the investment case of each company, but in relation to voting Velliv's own judgement is decisive for all voting instructions.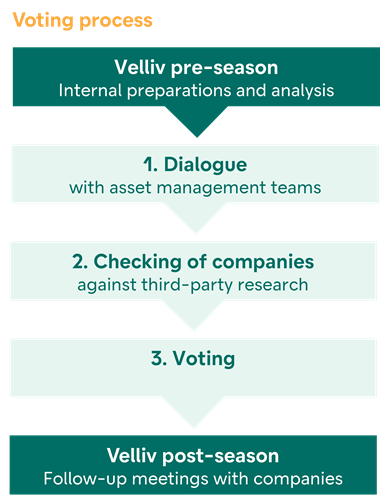 In 2021, Velliv voted at the ordinary and extraordinary general meetings of 1,000 companies and on around 10,000 different proposals. We have voted in favour of 89% of the proposals, while we have voted against/abstained on 11% of the proposals.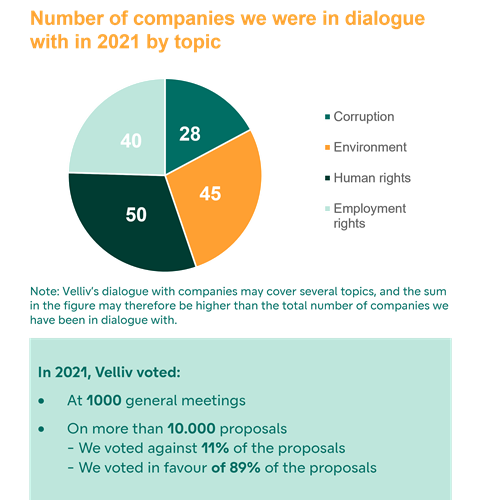 Use of asset managers
Velliv's use of asset managers and consistency with overall strategy
Under sections 159 and 160 of the Danish Financial Business Act regarding active ownership, Velliv is required to report on the main elements of our share investment strategy and our use of asset managers.
Velliv's investment strategy is designed to meet the company's long-term commitments to its customers. The investment strategy includes listed shares as an important element in fulfilling our insurance obligations and safeguarding our customers' best interests.
At Velliv we offer a variety of products to our customers. Based on each product's risk capacity and other restrictions, the overall strategic objective is common to the investment strategy of all portfolios: to determine an asset mix that generates the best possible long-term returns. The investment strategies are determined in line with the Prudent Person Principle, which constitutes the general framework for asset management by insurance undertakings. Velliv's share investments are long-term and aim to support long-term value creation for our customers.
At Velliv we are 'specialists in choosing specialists', and the majority of our share investments are made through external asset managers. These asset managers are to underpin value creation for our customers and comply with Velliv's investment restrictions, including 'Velliv's Policy on Responsible Investment and Active Ownership'.
The investment strategies of the asset managers are selected and determined in accordance with Velliv's strategy for listed shares and Velliv's overall investment strategy. The investments contribute to the resilience, diversification and value creation of Velliv's investment portfolio.
The asset managers are tasked with investing in the best possible way within the guidelines laid down in a management agreement, all of which include a benchmark for their mandate. Velliv works with many external asset managers, each of which represent small 'building blocks' in the overall investment strategy of Velliv. It is thus Velliv that ensures that the overall investment strategy is consistent with the profile and duration of Velliv's insurance obligations. Velliv continuously evaluates whether the strategies exhibit the desired characteristics and performance. Generally, asset managers are remunerated on a capital and/or return basis and without any predetermined end date. However, all agreements on listed shares can be terminated at short notice.
External asset managers are also evaluated on the basis of their work on integrating sustainability and ESG into their investment decisions. The external asset managers' ESG processes, activities and resources are evaluated annually and form part of the continuous monitoring and follow-up on Velliv's external asset managers.